The working principle of the graphite rotor and extend its service life
---
The working principle of the graphite rotor is: the graphite rotor breaks the nitrogen (or argon) blown into the aluminum melt into a large number of dispersed bubbles and disperses them in the liquid metal. According to the principle of gas differential pressure and surface adsorption, the bubble absorbs the hydrogen in the melt, adsorbs the oxide slag, and brings out the melt surface with the rise of the bubble, so that the melt is purified. Due to the fine dispersion of the bubbles, they are evenly mixed with the rotating melt and then rotated, slowly floating up in a spiral. The long contact time with the melt does not form a continuous straight upward gas flow, thereby removing harmful hydrogen from the aluminum melt and significantly improving the purification effect.
From an operational point of view, how to extend the service life of the graphite rotor is detailed!
1. Preheating before use: the graphite rotor is preheated for 5min~10min at about 100mm above the liquid level, and then immersed in the molten aluminum to avoid the influence of quenching on the material; Before immersion in liquid, the rotor must be filled with gas; The air supply can only be stopped after the rotor level is raised to prevent clogging of the pores of the rotor nozzle.
2. Isolation air: Nitrogen or argon is introduced into the purification box to ensure positive pressure in the box, isolate the outside air, and prevent the graphite rotor from oxidizing.
3. Rotor immersion depth: The reasonable depth at which the graphite rotor is immersed in the aluminum melt makes the reinforcing sleeve exposed to about 80mm under the aluminum liquid surface and about 60mm under the liquid surface, which can effectively increase the oxidation loss and erosion of the rotor.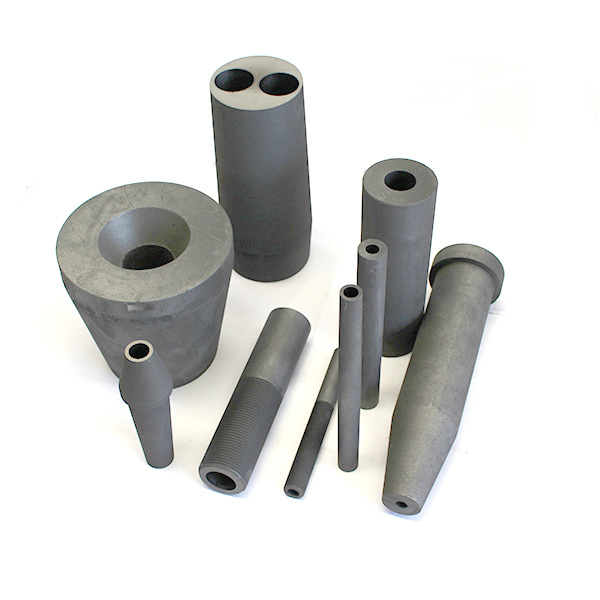 4. 稳定的传动系统:石墨转子通过连杆(管)与传动系统连接。连杆在高温作用下长时间变形,或传动设备相关部件松动,会影响转子的中性和运行稳定性,容易折断或撞击石墨转子。氩气或氮气应为纯净的:如果管道、接头等部件的泄漏导致不纯的氩气或氮气进入铝熔体,转子上部会严重氧化,甚至下部的几个转子喷气孔也会被氧化,这将大大缩短转子的使用寿命。
  由于石墨具有许多优异的性能,它被广泛应用于冶金、机械、电气、化工、纺织、国防等工业部门。它可以用作耐火材料。石墨产品保持了鳞片石墨原有的化学性能,具有很强的自润滑性能。石墨粉具有强度高、耐酸、耐腐蚀、耐3000℃高温、耐-204℃低温等特点。同时,其抗压强度大于800kg/cm2,具有抗氧化性。在450℃空气中失重1%,回弹率15-50%(密度1.1-1.5)。因此,石墨产品已广泛应用于冶金、化工、石化、高能物理、航空航天、电子等领域。
  由于石墨特殊的结构,石墨制品具有耐高温、抗热震、导电性、润滑性、化学稳定性和可塑性等特点。它始终是军工、现代工业和高新技术发展中不可或缺的战略资源。石墨产品,如石墨环、石墨船以及石墨转子,都有着广泛的应用。
  作为一种重要的战略性非金属矿产品,石墨行业将受到准入管理。随着准入制度的实施,石墨及石墨产品将成为继稀土、氟化工、磷化工之后的又一个行业,该领域的龙头企业将进入新的发展阶段。

Qingdao Sanlian Graphite Products Co., Ltd

Address: Maojiabu West Village, Wubei Town, Laixi City, Qingdao
---